Explosion welding, cladding, or bonding, is a solid-state welding process that is used for the metallurgical joining of metals.  Explosion bonding utilizes the controlled detonation of explosives to accelerate one metal into another in such a manner as to cause the two to fuse together.  The force of the explosion sets up an angular collision which produces an ejected plasma. The plasma jet acts to remove impurities from both metals' surfaces in front of the collision, leaving behind clean metal for joining.
The pressures along the collision front are high enough to force the solid metals to act as viscous fluids. The fluid-like behavior is responsible for creating the trademark wave pattern bond line in an explosive weld.  If an excessive amount of energy is used, the waves can crest and the metals can melt together, creating possibly brittle intermetallics.  Conversely, insufficient energy will not lead to a bond.  Because of this, calculating the proper amount of force to use during bonding is one of the many challenges faced during the explosive welding process.  High Energy Metals, Inc. utilizes our extensive expertise, our vast database of experimental testing, and state of the art computer modeling to optimize all the parameters of our blasts in order to produce the highest quality products.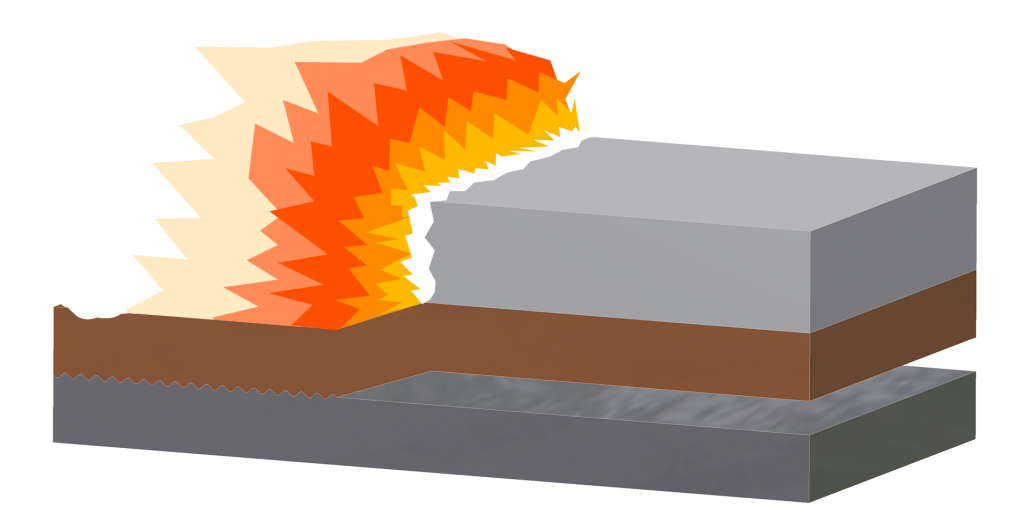 Explosion welding is known for its:
Explosion welding creates a full atomic bond between two metals.  The blast also cold-works the metals, increasing their strength along the bond-line.  This means that the bond is often stronger than the constituent metals.
Almost any two metals can be bonded together.  Additional interlayers can be added to the explosive weld to tailor the bond properties to the customer's requirements.
HEMI's welding process allows us to create multi-layer metal products.
Despite the extreme forces involved, our explosive welding process does not heat the metals being bonded.  This means that metals can be joined without losing their desireable pre-bonded properties.